Distracted pedestrians are more likely to be hit when crossing the street so a member of the provincial government of Ontario is proposing a law to improve safety. The Phones Down, Heads Up Act was tabled today in the legislature to prevent pedestrians from using phones or electronic devices when crossing the street.
If passed, it would also require the government to lead an annual campaign to raise awareness about distracted driving, especially texting and driving. Several provinces have already outlawed texting and driving. In Canada, road rules under provincial jurisdiction.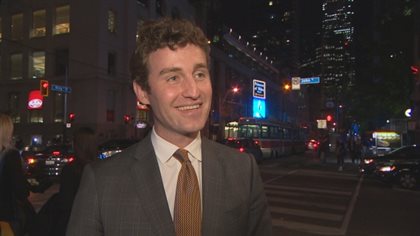 Private member's bill gets support
Member of Provincial Parliament Yvan Baker tabled today's motion as a private member's bill, most of which are not often passed into law. However, he has received many messages of support from fellow members of Parliament, the Ontario Safety League, and at least two school associations.
'Toronto is…one of the worst cities'
"Toronto is already one of the worst cities in North America when it comes to traffic," said Baker in a news release. "With winter quickly approaching, road conditions can make it difficult to stop. Experts tell us that if you are alert, you are less likely to get hurt. I would like pedestrians to be aware of the risks of crossing the road while distracted by phones and other electronic devices. My bill would strengthen road safety by encouraging pedestrians and drivers to keep each other safe."
If it were passed, the new law would allow for fines for distracted pedestrians of $50-125. But there would be exceptions for people using a cellphone to contact emergency services or for calls started before the pedestrian entered the roadway.