Members of Canada's artificial intelligence (AI) community want Canada to spearhead a movement to ban autonomous killing machines. Government representatives, advocacy groups and academics from around the world are meeting in Geneva this week to discuss so-called killer robots.
Machines 'independent of human intervention or oversight'
"What we're talking about is the next generation of autonomous weapons…which can operate and carry out their function independent of any kind of human intervention or oversight," says Prof. Ian Kerr, and ethics, law and technology professor at the University of Ottawa. He is one of the authors of a letter addressed to the prime minister of Canada asking him to take a leading position against autonomous weapon systems on the world stage."We're talking about weapons which would target and kill without any kind of meaningful human control in that decision process," says Kerr.
Listen
Weapons only years away, says professor
It was though that development of this kind of weapon was decades away, but now Kerr says it's commonly believed to be only years away. He says that the Russian firm Kalashnikov has stated that it is quite close to developing fully autonomous weapons.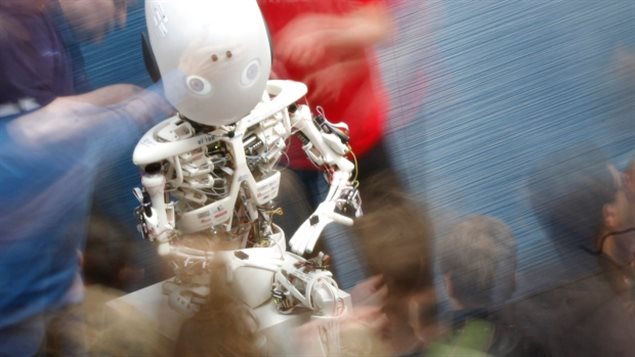 Crossing 'a fundamental moral line'
There are arguments that these robotic machines would be more accurate and could put fewer lives at risk. Kerr acknowledges machine can enhance precision but he says: "I think we have to draw a fundamental distinction between the precise firing of a weapon on the one hand and the decision whether to fire that weapon on the other hand.
"The fact that a machine is pretty good at hitting a target doesn't say anything at all about the moral decision whether to kill. And it's that delegation of the life-or-death decision-making to machines that we think crosses a fundamental moral line."
The Canadian government has contributed $125 million to artificial intelligence research. Kerr says Canada is a leader in terms of creating AI and it must help create ethical AI.
World famous physicist Stephen Hawking told BBC in 2014 that AI could "spell the end of the human race." An international coalition of groups created the Campaign to Stop Killer Robots  in London in April 2013. Kerr is a affiliated with the coalition.