"What we're most concerned about are abusive populist leaders who are trying to gain power and extend their power by demonizing and scapegoating minorities and ignoring human rights," says Emma Daly, communications directors at Human Rights Watch. In its just-released annual report, the international agency reviewed the human rights practices in more than 90 countries.
Listen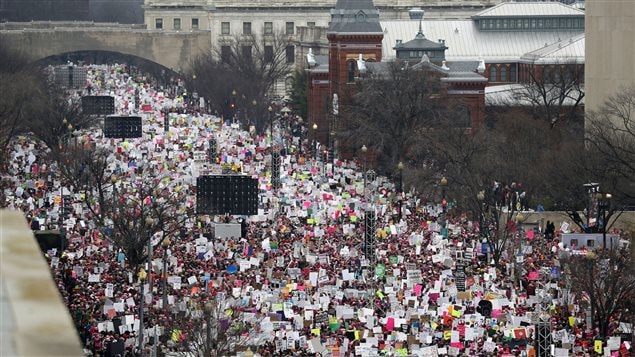 Trump and a European wave of abusive populists
"If we look back a year ago we just had Donald Trump win the U.S. presidency with a platform that was quite openly misogynistic and racist. And we also had the spectre of Europe being possibly governed by far-right parties," says Daly. "So there was real concern that this wave of abusive populists would really sweep through the world. I think now what we've seen is something of a halt there."
Political leaders have great effect, says report
The report applauds French President Emmanuel Macron for "firmly opposing the National Front's campaign of hatred against Muslims and immigrants" and its anti-human rights platform. It uses this as an example of how political leaders can fight for human rights principles and limit authoritarian populist agenda.
But it also warns that some other European leaders tried to counter the appeal of far-right parties by co-opting some of their ideas and in so doing, "mainstreamed" some of the tenets of racism and xenophobia further enabling the far-right.
A general call to action
Human Rights Watch calls on political leaders to stand up for human rights, and for other players and ordinary people to do so as well. The report says they can have a powerful effect as did U.S. courts ruling against Trump's anti-immigration policies, popular protests and journalists' fact-based reporting.
"I think one of the critical lessons is that when people don't speak out the situation deteriorates," says Daly. She gives the examples of Myanmar's brutal campaign against its Rohingya minority which forced more than 600,000 people to flee the country and the Turkish president's crack down on anyone who disagrees with him.
Canada called to improve Indigenous rights
The report details human rights situations in the countries it studied. As for Canada, it applauds Prime Minister Justin Trudeau's support of human rights and the fact that he calls himself a feminist. But it says the government must do more for Indigenous communities such as making sure they have access to safe drinking water and that more is done to counter violence against Indigenous women.