It's called "grey water". It's not sewage, but its certainly not clean either. It's the dirty water resulting from clothes washing, dish washing, showers and sinks. This waste water includes soaps, nutrients, and microplastics.
The World Wildlife Federation-Canada has raised concerns with a new report showing that as ship activity increases in the Arctic, so too does the threat of dumping of grey water.
Melissa Nacke is a WWF-Canada specialist on Arctic shipping and marine conservation.
Listen
As Canada is in the midst of the summer tourist season, the concern is about the increasing ship traffic and tourist cruises into the remote and previously pristine Arctic ecosystems and marine environment.
In a statement, Hans Lennie, secretary-treasurer of the Inuvialuit Game Council, said  "Northern communities rely on resupply ships and many communities are happy to see tourism growing responsibly in the Arctic. However, communities in the Inuvialuit Settlement Region rely on the ocean for food. Untreated grey water can contaminate shellfish and could create toxic algae blooms that have the potential to jeopardize our food security. As shipping grows in the Arctic, it's important that regulations are changed to stop the dumping of grey water into the ocean."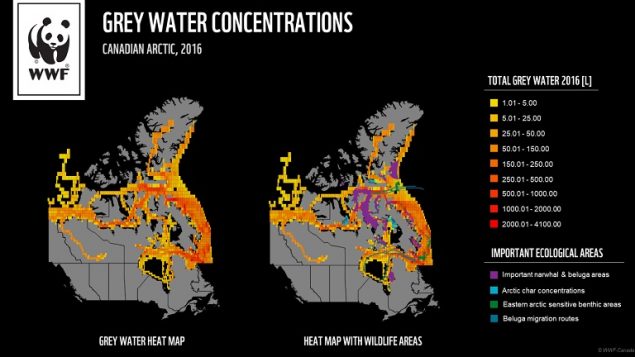 Nacke points out that under Canadian regulations, grey water falls under the category of waste, and the rules state there can be no dumping of waste in the Arctic, However, the report shows the average cruise ship passenger generates about 250 litres of grey water per day.
Commercial and fishing vessels produce less grey water per day per person, but are usually in the Arctic for longer periods, thus their grey water accumulation can be just a large. The problem Nacke says is that ships don't have the capacity to store grey water, and there are no treatment methods approved in Canada for shipping. There are also no treatment facilities on shore in the communities of the Canadian Arctic.
Because the rules are much stricter in Alaska than Canada, Nacke says ships could easily dump in Canadian waters before entering or after leaving Alaskan waters.
Nacke says while Arctic shipping is still relatively low in numbers, this is likely to increase greatly in coming years and as such, clear rules, enforcement, and water treatment facilities should be looked at quickly before the Arctic marine ecosystems sustain harm.