A major international survey by the Ipsos polling agency found some interesting perceptions.
The poll contacted some 19,000 people in 27 countries for their perceptions on truth in relation to the media and politicians.
A lot of people (65%) believe that others in their respective countries live in a sort of internet information bubble only connecting with others or with stories that share their opinion.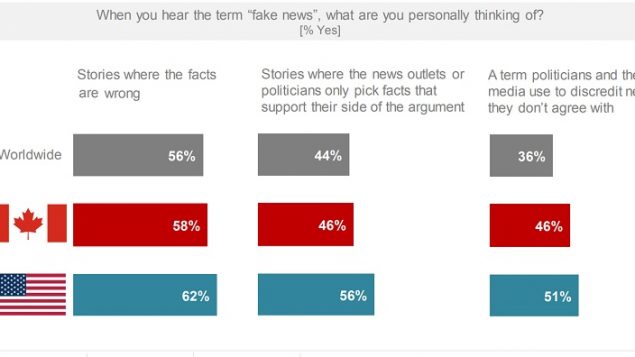 The U.S has the highest percentage of people who believe this (77%) while Japan has the lowest (44%) while in Canada the number is 69 per cent.  At the same time few people would think they themselves fit this category with only 34 per cent as the world wide average, 32 per cent in the U.S, and 31 per cent in Canada.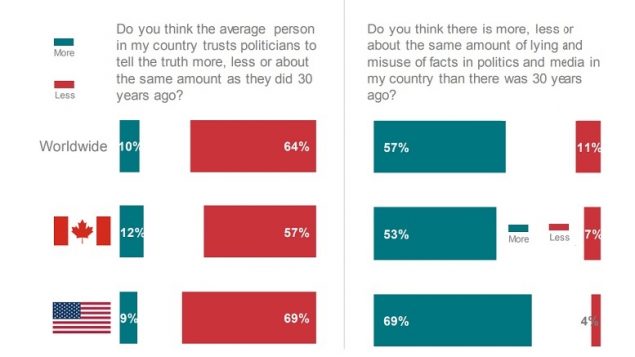 Similar discrepencies occure when asked about the ability to detect fake news. Worldwide 41 per cent say they're confident that others in their country country, ( 39% Canada, 20 % U.S) and yet say they personally are confident in discerning real news from fake news, (63% worldwide, 64% Canada, 65% U.S)
As to whether people trust politicians to tell the truth compared to 30 years ago,  a clear majority said there was less trust.
Similarly asked whether there was more lying, or less lying and misuse of facts in politics and the media in their country compared to 30 years ago, again a clear majority said there was more
Additional information- sources