..response plans rely on capacities and methods that may not  exist or cannot be adapted in remote communities to respond to a ship-based spill. WWF
The World Wildlife Fund (WWF) has released a report on the ability of Canada to deal with ship's fuel oil spills in the Arctic.
With global warming and the resultant ice-free areas in the Northwest Passage,, there are more and more ships travelling through the region. From cargo ships, to ships serving mine sites, to huge tourist ships.
The WWF studies point out a large number of problems and inabilities to deal with fuel oil spills. These include
-only a few communities have access to even basic fuel spill reponse equipment, some have no equipment at all
-those that do say it's irregularly checked,  too few are trained to use it, and some communities don't have the key to access stored Coast Guard response equipment
-Arctic conditions (darkness and/or harsh weather limit the effectiveness of response equipment and often prevent any response at all.
-remote locations/ vast distances mean response times cen be ten times longer than those in the south
– Lack of reliable communications infrastructure makes it difficult for communities to call for assistance, and for responders to communicate with those on land during an oil-spill response

The MV Clipper Adventurer ran into a rock shelf while travelling near Kugluktuk, Nunavut in 2010. Its owners sued the Crown for more than $13 million in damages, claiming they were not warned about the shelf, but were not successful. The WWF report recommends clearly identified and recommended shipping lanes to avoid obstacles and enivronmentalloy sensitive areas

© 

The Canadian Press
The report says the Canadian Coast Guard is the primary agency to deal with spill response and in areas where a  "Community (response) Pack" is available it is only designed to respond to very minor spills of up to one tonne. These include anywhere from 400m to 1 kilometre of boom, a skimmer, small aluminium boat, a skimmer, and rakes and shovels.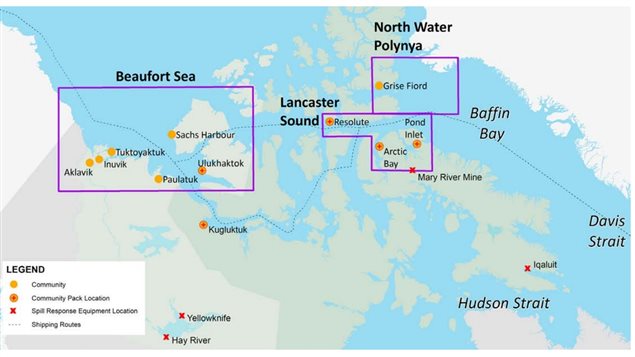 The largest equipment available anywhere in the Arctic (at Tuktoyatuk and Iqaluit) can recover only up to 1,000 tonnes of oil, whereas tanker supply vessels and large ships themselves hold several thousand tonnes of fuel. Communities with recovery materal also have a storage tank for recovered fuel. However the report notes that although Tuk and Iqaluit could in theory recover up to 1,000 tonnes of spill fuel, the storage tank capacity in Tuktoyaktuk is limited to 275 tonnes.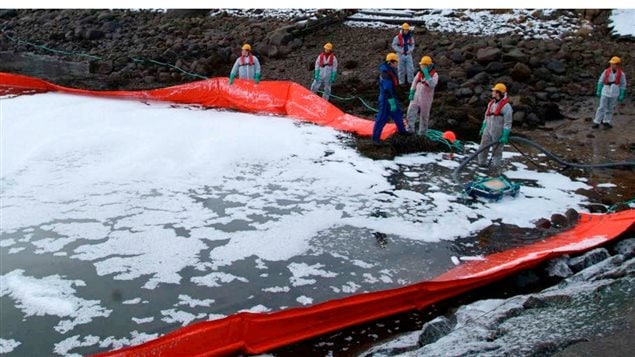 The report goes on to list numerous other problems. Where equipment exists, it's not certain it even works as it's seldom checked, to potential inability to even access the equipment behind locked Coast Guard storage areas. There is also concern about the lack of trained people available in the small communities to properly use the equipment.
The Coast Guard could help but only has three icebreakers for the whole of the Northwest passage covering thousands of kilometres, and even with good conditions, a ship's arrival would be long after the event.
Environmental conditions also pose major problems, from the long winter darkness, to presence of ice, to often stormy weather which would make it harder to see the spills in the dark, or even use the booms in stormy weather.
An Arctic shipping oil spill would devastate the surrounding marine environment, including the destruction of habitat for polar bears, seals, walrus, sea birds, as well as beluga, narwhal and bowhead  whales. These consequences would be mainly borne by the communities, not the responsible parties. World Wildlife Fund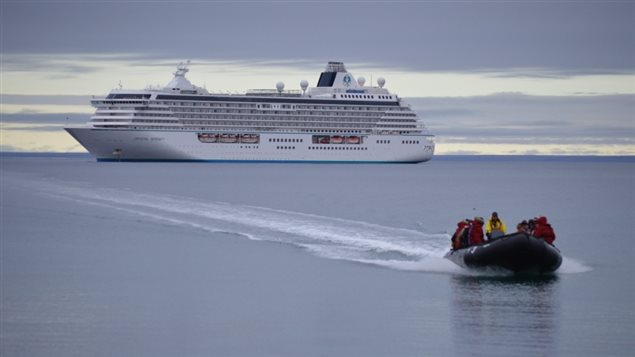 The report makes several recommendations including the phase-out and eventual ban on heavy fuel oil (HFO) a tar-like fuel also known as bunker which in addition to being nearly impossible to clean in an Arctic environment, is also a heavy emitter of soot and other air pollution.
It also recommends that laws be instituted to require Arctic ships to carry their own equipment for initial response to mitigate the much longer response times of other help in the Arctic situation.
It also makes a number of other recommendations including greater participation of Arctic residents in decision-making, and increased training for local residents, along with more and better response equipment throughout the vast region,
additional information-sources