Many thousands of Canadians have responded bitterly to a news story about Canadians losing their jobs to temporary foreign workers and the outsourcing of jobs offshore.  The public anger shows no signs of abating.
Earlier this week employees at one of Canada's major banks revealed to media that they were losing their jobs and being replaced by foreign workers.  This comes at a time when Canadian banks are reporting record profits.
Dozens of Royal Bank of Canada workers in the IT field said they were being told to train new foreign workers from India before they were to lose their jobs.  Dave Moreau, one of the affected employees said, "It adds insult to injury".  Mr Moreau told Go Public. "A lot those people are in their late 50s or early 60s. They are not quite ready for retirement yet, but it may be very difficult to employ them."
Another RBC staffer said, "The bank is doing this while making billions of dollars in record profits and they don't think about the impact on us".
RBC said it is working with iGATE, an Indian firm to provide IT services.  In a statement the bank said, "External suppliers with the right skills allow us to introduce new efficiencies, continually improve our service at reduced cost and reinvest in initiatives that enhance the client experience," 
The bank also said the temporary workers, would be in Canada until 2015, then the work would be shifted to India.
The bank denies they are directly bringing in foreign workers. Bank spokespeople claim  that everything is being done within the law, and attempts are being made to find other work for displaced workers. The comments have been met with widespread scorn by the public. Thousands have said they will take their money out of the bank, and a boycott page has been created on Facebook.
As the story develops, it now appears similar outsourcing and training of foreign replacement workers in Canada has been going on at other major banks as well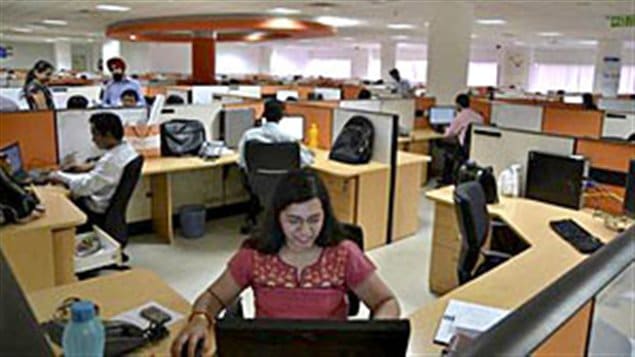 Many questions are now being raised about how such foreign workers are allowed visas to supplant Canadian workers.  The wider issue of major companies shipping work offshore is also growing.
Meanwhile, a decision is pending on another contentious case of foreign workers replacing Canadians.  At issue is  the hiring of some 201 Chinese temporary workers at a Chinese-owned mine in western Canada. The mine claimed no Canadian miners were qualified.  Two unions have angrily rejected the claim.  This case, which has also sparked bitter reaction across Canada, heads to a federal court today.