Every time you wash your clothes, you are undoubtedly contributing to a growing worldwide problem.
Most of our clothes contain a mixture of cotton and petro-chemical plastic-based fibres; acrylic, nylon, or polyester.  Every wash releases thousands of microscopic bits of these fibres into the waste water.
In addition vast amounts are also released by clothing manufacturers in their waste water.
Adding to the concern are micro-beads found in toothpastes, body washes and facial scrubs, and the vast amounts of bits from other plastic sources, bags, bottles, containers as they are broken down into smaller and smaller pieces.
These tiny bits of products average about the size of a grain of sand and range from only a couple of millimeters down to only microns in size. Because of that, they are too small to be filtered out by water treatment plants and make their way into the environment.
Microplastics in our beer, drinking water and fish we eat
Because of their tiny size, they are also likely turning up in our drinking water. A study of German beer, famous for its "purity laws" found microplastics in all samples studied.
In the lakes and oceans, acquatic species such as mussels, worms, fish and plankton may mistake the plastic beads for fish eggs or microscopic organisms and eat them.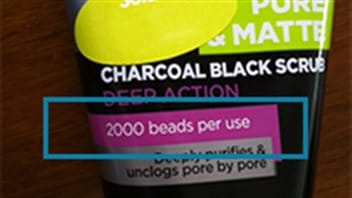 Microplastic fibres were found in a double-crested cormorant, a fish eating bird, with the possibility that they are also in, or potentially have some effect upon, the fish we eat.
In addition to their own toxicity, as they float in the water they bsorb other harmful chemicals that might be in the water, like detergents, oil and pesticides.  While in some cases, the beads may pass through fish and other organisms, the fibres can become enmeshed in the gut, and the longer they stay there, the greater the likely affect upon the organism.
Sherri "Sam" Mason, a chemist with the State University of New York at Fredonia, and students have been studying the phenomenon in the US-Canada Great Lakes.
They found that depending on the area, about three-quarters of the microplastic bits are from larger items, plastic bags and bottles for example, that have been broken down by Uv and wave action into the tiny bits, while microfibers range from 4-12 percent of the debris.
5 Gyres have also asked cosmetics manufacturers to stop using microplastic beads in their products and replace them with natural alternatives instead. Things like nutshells, grape seeds, oat kernel flour, or even sugar will work just as well in cosmetic products, and they are biodegradable.
Some cosmetic companies have complied, while others says they will be phasing out plastic microbeads in the future.
RCI report on micro-beads in Great Lakes
To find out if a product contains microplastics, you can check the list of ingredients for any of these items: polyethylene; polyethylene terephthalate; PVC; or polystyrene.
While it is possible to remove plastic from cosmetics, it is a much more difficult task to remove synthetics from clothing.
Laura Kammin, pollution prevention specialist with the US-based Sea Grant program, which took part in the Great Lakes sampling, is quoted by the Associated Press saying pollution prevention in the first place is the best protection for the lakes.
She adds, "It's very hard to remove these microplastics once they're out there".
(with files from Associated Press)
Guardian article on microplastics