On the federal election campaign trail, Liberal leader Justin Trudeau promised that if elected, his party would invest nearly six-billion-dollars over the next four years in environment-friendly infrastructure. That would be part of almost 20-billion that would be spent over the next decade.
The Liberals would invest in things like waste-water treatment plants, better storm drain systems and other infrastructure upgrades to ensure it can withstand the more frequent extreme weather he says is coming.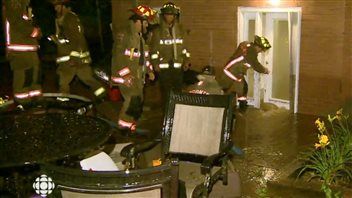 Liberals plan to stimulate the economy
The investment is part of a Liberal plan to invest in infrastructure to stimulate the economy. It would entail deficits of up to 10-billion-dollars a year for the next three years. The two other major parties, the Conservatives and the New Democratic Party have vowed to balance the books and post no deficit.
Leader seeks to recover seats in former Liberal stronghold
Trudeau is campaigning in the French-speaking province of Quebec this week. His Liberal party used to win many seats there, often helping it to form a majority government. But in the last election it only won seven seats out of a possible 75.
Support for the party crumbled after the so-called sponsorship scandal in which the Liberal government was found to have improperly spent $100-million to promote federalism in the province in the 1990s.