Green Party leader Elizabeth May says she supports civil servants' right to free speech. At an election rally in the western city of Vancouver, May invited former federal government scientist Tony Turner to sing the song he composed exhorting Prime Minister Stephen Harper to step down.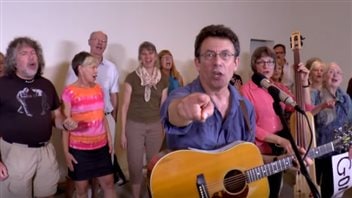 Scientist was placed on leave
Turner retired from his job after he was placed on leave for allegedly breaching the federal government's values and code of ethics for public servants by posting the song on the internet. He told an election campaign rally in the western city of Vancouver that he quit because he wanted to raise issues about which he cared deeply before the election on October 19th.
Critics have accused Harper of preventing government scientists from publicly talking about their research and of firing many researchers over his time in office.
Green leader highlighted climate change
Climate change was the focus of May's speech. She promised to block all of the main proposals to build pipelines to ship bitumen from Canada's oil sands. Extracting bitumen from the oil sands is responsible for most of the province of Alberta's greenhouse gas emissions.