It appears Canadians are more polite than Americans
Two PhD candidates at McMaster University in Hamilton, Ontario, studied "geo-linguistic" differences, between two countries where English is the primary language, and were among the first to conduct such research.
Daniel Schmidtke and Bryor Snefjella, analyzed more than three million tweets and found that Canadians tended to be more upbeat and pleasant than Americans, at least in their tweets.
After they filtered out words like "a" and "the" and "to", they found Canadians had a greater use of positive words like "great", "amazing, and "beautiful", while American tweets were more vulgar and had a greater percentage of negative words, like "hell", "hate", "damn" and many more swear words and a racial slur.
Canadians also tweeted a lot about Canadian sports teams like hockey's "Leafs" and "Habs" (Toronto Maple Leafs, Montreal Canadiens- often knicknamed the "habs" for "habitants") as well as baseball's Toronto Blue Jays (Jays) and Toronto basketball Raptors.
"We could see the difference between the two countries' tweets as soon as we created a word cloud of the findings," says Schmidtke.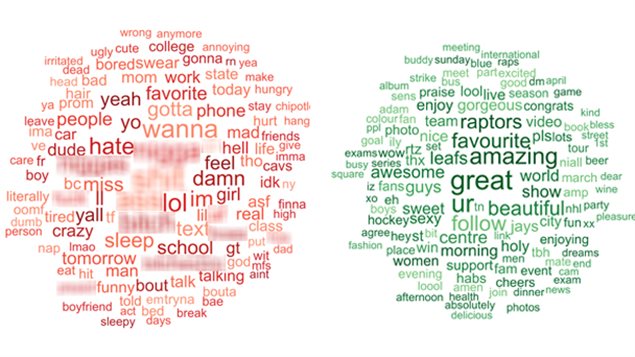 They found far fewer differences when they performed the same study comparing England and Scotland. There the differences included such things and English using the word "small" and "good" whereas Scots would tweet "wee" and "gid"
They also found that geographically English terms were creeping northward. Close to the border, Scots tended to use English terms, while greater physical difference also meant greater linguistic difference.
Pretty cool, eh? (yes "eh" was used far far more in Canadian tweets, as was "hockey")
MM
Additional information- sources