While many are saying climate change will result in more massive forest fires like the one in Fort McMurray Alberta, the other changes could be even more dramatic.
Right now Canada's prairies are vastly important food production area for the entire world. That seems destined to change, and dramatically if carbon emissions are not reduced.
The Prairie Climate Centre at the University of Winnipeg has just created a prairie climate atlas showing projected warming at several carbon levels over the next several decades.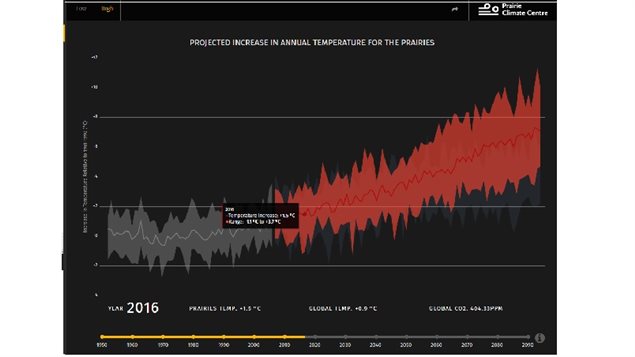 "Many do not fully appreciate how much the Prairie climate is expected to change," says climatologist Dr. Danny Blair, the Director of Science for the Prairie Climate Centre and Principal of the University of Winnipeg's Richardson College for the Environment.
The new study predicts the number of warm days will increase which in theory means a longer growing season and possibly new crop opportunities for farmers. However, the number of extremely hot days and changes in precipitation patterns could easily negate that and worsen conditions.
 From green and gold crop fields to dust bowl?
Using a number of different models, the Centre has developed projections showing the number of summer days with temperatures above 30-degrees Celsius, will dramatically increase across the prairies under current carbon emissions. In some places there will be three and four times the number of days of 30-degrees and above.  will mean more heat waves, drought, and forest fires. As one of the world's greatest crop production regions, the consequences would be dramatic.
Canada is currently among the top ten producers ofcereal grains and meat, and is the world's sixth largest food exporter. Half the country's farms are located on the prairies,
Water has long been a concern for prairie agriculture, and added heat would likely overwhelm any effort at coping.
Food expert Sylvain Charlebois notes that in addition to other problems, changes in weather patterns "can also influence crop pests and disease.  Increased prevalence of pests and pathogens in livestock and crops is also a definite possibility in the future".
Combined effects of climate change could reduce food production on the prairies by up to 50 per cent.
He also notes that while droughts in California attract media attention, up till now, little thought has been given to the future issues on the prairies.
The new Prairie Climate Atlas is designed to help inform policy makers.