Big fish, but big problem in St Lawrence
Normally a fisherman would be happy to haul in a whopper. But this whopper isn't supposed to be there, and it represents the potential for a big, and very serious, problem.
Two men fishing commercially for carp in the St Lawrence river north-east of Montreal caught a huge fish of a type they'd never seen before.  Pierre Theriault told Radio Canada, " We weren't sure what it was. It looked like a carp, same colour, but it was huge. We saw it was really different from the others."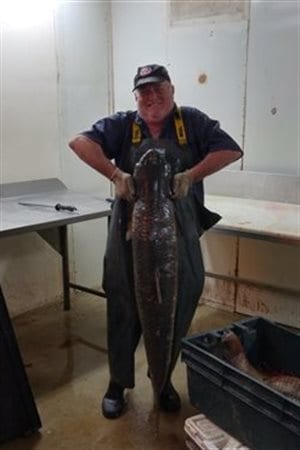 Asian carp. Not good news.
The men contacted biologists from the Quebec Ministry of Forests, Wildlife and Parks.  They came quickly he said, and were greatly surprised, adding it was if they didn't want to see it, but were glad it was caught.
The biologists were not happy because it turned out to be an Asian grass carp, an invasive species which grows and reproduces rapidly and is a voracious eater.  It's the first Asian carp found in the St Lawrence.
Grass carp is one of four species of Asian carp, which have been wreaking havoc in American waters and pose serious threats to native species.
The grass carp species eats vegetation and can destroy the habitats of native fish where they lay eggs and where young fish can hide from larger predators.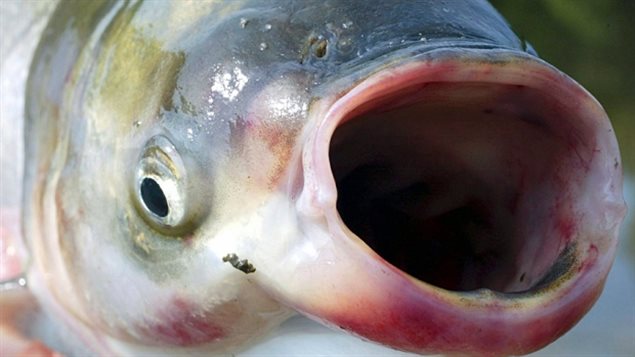 Biologist Michel Legault says the fish was a female between 15 and 30 years old and full of sterile eggs.
He says its worrisome because it was hoped the Asian carp was confined to the US  although he notes that grass carp have been found in a section of Lake Erie and nine grass carp have been caught near Toronto, adding the catch of this grass carp in the St Lawrence "is not good news" as it threatens all the fish species in freshwater rivers flowing into the St Lawrence
The discovery has prompted the provincial government to announce a $1.7 million programme over three years  to determine if there are other Asian carp in the river and to develop an education programme for fishers.
Additional information- sources