Nothing on earth can survive without water. Not plants, not animals, not fish.
Humans can survive only about 3 days without it.
Even though the Earth is filled with lakes and rivers, and rain falls from the sky, we're running out of water.
This is through greed, waste, and destructive practices.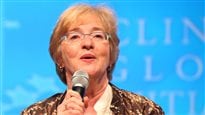 Many experts have said water will become the defining issue of the coming decade
Maude Barlow's new book looks at what is happening in Canada and around the world.  It's called, "Boiling Point: government neglect, corporate abuse, and Canada's water crisis.
Although it deals generally with the situation in Canada, it explains how and why the subjects touched upon are interconnected world-wide.
Ms Barlow ,is the National Chairperson for the Council of Canadians, a non-profit group advocating on environmental issues, public health care, fair trade issues, and healthy democracy.
In this first of five discussions on the subject, she gives an overview of the situation.
Listen
Part 2 tomorrow looks at water and its use by the oil and gas industry. Future  segments will deal with such topics in the book as the effects of industrial scale farming,  corporate water extraction, and international trade deals and the commodification of water.