We know a little about whales, but often have more questions than answers.
Traditional observation done by following whales and pods in boats, gives only limited knowledge of behaviour at the surface and may in fact disturb them thereby possibly altering their habits.
Tracking with attached sensors can give additional information as to travel and depth, but is also limited.
Now Sarah Fortune, a PhD candidate at the University of British Columbia zoology department has been following whales using small aerial drones.
Listen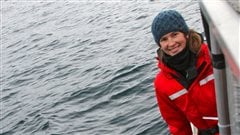 The advantage of drones is that they are non-intrusive, and can give a new insight into behaviour patterns. The cameras can follow at the whales' slow speed, while looking down into the water and so watch whale interactions in ways never before possible.
Sarah Fortune has been studying bowhead whales, a species of baleen whales.  These are often found in far northern and Arctic waters. They are one of the largest whales, and are known to have long lifespans, in fact one of the longest lifespans of any animal in the world at about 200 years.
Unlike  the spectacular images of  humpback whales as they burst through the surface and scoop up tiny krill with gaping mouths, it is thought bowheads often feed much deeper and simply swim through swarms of the minuscule zooplankton creatures with their mouths open with the baleen acting like a sieve to capture the prey but release the water.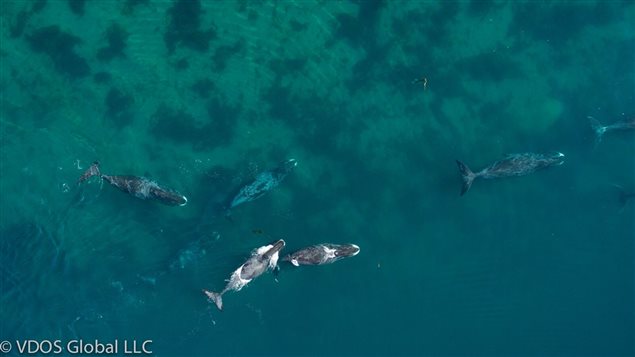 What they were able to find with the drones so far is that the bowheads have much more interaction and that the members of groups were constantly touching and rubbing against each other. This was found to be far more common than previously known. They also found the whales tended to feed in the morning in deep water, and then rest in groups in shallower water in the afternoons.
The drones with cameras allowed researchers to gather:
Better estimates of population size, trend and structure (number of males, females, calves);
More accurate estimations of the size and body condition of individual whales (including the amount of fat the whales have accumulated);
The ability to catalogue scars and unique markings to track the same whales over a long period of time, thereby improving data on growth and reproductive rates, and body condition. (this aspect headed by LGL's- Bill Koski, respected whale researcher)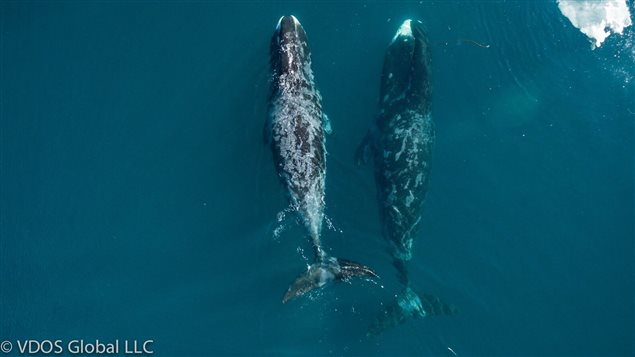 What the long term project hopes to better understand are the bowhead feeding habits, and how climate change and warming oceans may affect the both the prey and the whales.
Fortune's research is supervised by UBC professor Andrew Trites, Institute for the Oceans and Fisheries, and Mark Baumgartner, Woods Hole Oceanographic Institution, and supported by LGL Limited (Bill Koski), and VDOS Global LLC (Brian Whiteside and Thomas Seitz), Fisheries and Oceans Canada (Steve Ferguson) and WWF-Canada (Brandon Laforest).
She also wants to point out the enormous help provided by Inuit community members in the far north for their knowledge of the waters and whale activity. She adds a special acknowledgement to the Kilabuk family in Pangnirtung, Nunavut which has provided invaluable help throughout the project.