As we head to a new year–many of us, no doubt, trying to put this one as far behind us in the rear view mirror as possible–it's heartening to ponder the commitment of many who will not be deterred from making this world just a little better, one step, one battle at a time.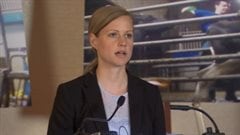 One of those persons is Anna Pippus.
Based in Vancouver, Pippus is a wife, a mother and a lawyer.
She is also a relentless pursuer of better treatment for animals, the ones we wind up eating, the ones that live in our homes as well as the others that cause us to gawk in the name of entertainment.
Pippus is director of farmed animal advocacy for Animal Justice, an organization in the forefront of a movement that continues to grow across Canada and around the world.
I spoke to her Wednesday about successes in 2016 and what may be ahead in the coming year.
Listen