In the province of Ontario alone, every year an estimated 21,000 people go to hospital emergency rooms after falling on ice or snow, and the Toronto Rehabilitation Institute is working to try to reduce that number.
Nasty, sometimes fatal accidents
"The accidents are nasty," says Geoff Fernie, the institute's director of research. "For older people it's broken hips which can be the end of their mobility. For a lot of people it can be bumped heads. For some people it's a fatal incident. It's a lot of grief every year.
"And it just seems crazy that we worry about the tires that we put on our cars in northern…winter climates…but we don't really give much for the footwear that we wear."
Listen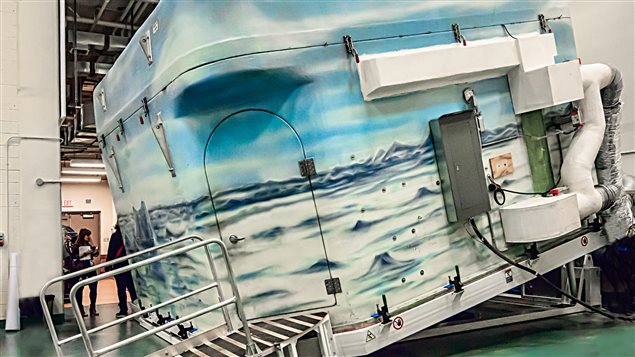 'WinterLab' has an ice floor and can be tilted
The institute, which is part of the University Health Network in Toronto, has invented a device to test the slip resistance of the boots that people wear in winter. It is the size of a living room and painted with an arctic scene. Inside it has a floor of ice made pink by glycol, which enables researchers to make the ice cold and hard or soft and somewhat wetter, to reproduce the varied conditions of winter.
The box can be tilted up at increasing angles while subjects walk up and down the slope to test the boots they are wearing. They are strapped into a safety harness to prevent falls and injuries. Researchers measure exactly at which angle the boots slip and assign the boot a rating based on that.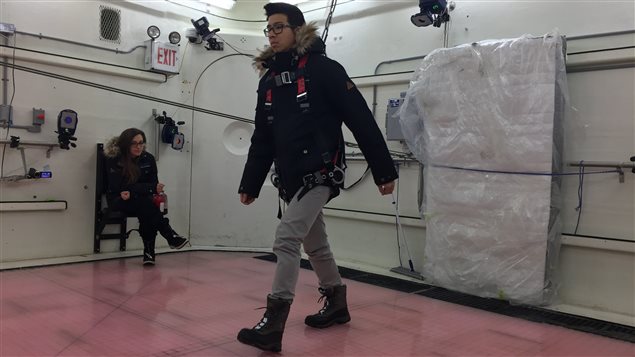 Most boots had poor grip
And how did the boots perform? "We found that most of them are actually very poor," says Fernie. "Some of them—quite expensive, some of them—you can't even stand up on level ice. Your feet go out from under you.
"But there's a couple of styles of outsoles—that's the bottom of the boot—that are performing better." Among them are a boot that has small diamonds that are gritty like sandpaper and scratch hard ice, providing better grip. Another has microscopic fibres like hairs that get into and grip the softer ice.
Information for consumers and producers
Consumers can look up the boot ratings on a newly-created website called ratemytreads.com. Fernie is happy to test any boot at the lab. He says the research is for consumers but also for boot makers to encourage them to make products with better non-slip features.
"It's really silly, you know. There's a lot of people injured every year and we can do much better."