In February alone, 635 migrants crossed from the US into Canada along an unwatched border section in Quebec and asked for asylum.
This compares with just 99 last February.   In January, 452 crossed into Quebec to claim asylum, representing  a 230 percent increase from January 2016,
The area around Emerson Manitoba is another hot spot for illegal entry.   Another 29 asylum seekers walked across the border into Manitoba  from the U-S over the weekend — the largest group of illegal border crossings at Emerson so far this year. About 143 had made illegal crossings up to the end of February in Manitoba, while a smaller number crossed into British Columbia.
It seems more Canadians are becoming displeased at the lack of control on the border and the federal governments reaction to the increased flow of migrants claiming asylum. While many Canadians support refugees and immigration, many also view these migrants as "jumping the queue" and taking unfair advantage of a loophole in Canada's laws and generosity.
A new poll of 1,001 Canadian adults conducted by Ipsos for Reuters showed that 48 percent of respondents want illegal migrants crossing into Canada from the US to be deported. Some 36 percent said they should be welcomed.  As to questions of security and safety, 41 percent felt these illegal migrants make the country less safe, while 46 percent feel they will have no effect on issues of safety.
As for how the Trudeau Liberal government is dealing with the situation, 55 percent disagreed (23 % strongly) with the government, while 37 percent agreed with the government handling of illegal migrants, (11% strongly)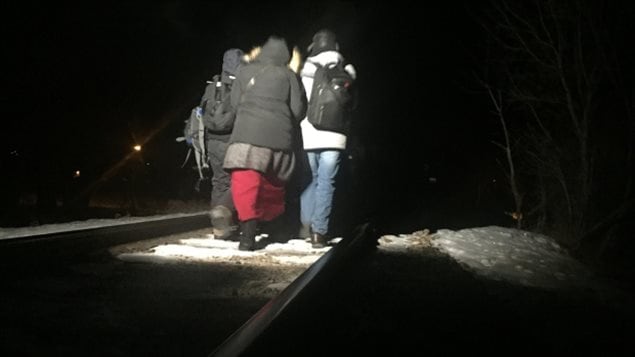 Another question dealt with people currently living illegally in Canada, again 48 percent wanted them deported while to this particular question only  23 percent were opposed to deportation, and 29 percent were not sure.
Another question dealt with Canada's acceptance of tens of thousands of refugees from Syria.  Some 36  percent said it made Canada less safe from terrorism, while five percent said Canada was more safe because of it.  However half of respondents (50%) said it made no difference and nine percent weren't sure.
The Canadian Border Services Agency meanwhile reports that there is are almost 45,000 outstanding warrants for people to be deported.
A  CBSA spokesman said most of the warrants are for failed refugee claimants.
In 2008, the Auditor-General's report noted that the CBSA had 22,000 cases of enforceable removal orders where the whereabouts of the individual was known. However there were 41,000 cases where the person was to be removed but their whereabouts was not known.
Additional information- sources