The rusty-patched bumble bee was once a common summer sight throughout the mid and eastern US states and well into southern Ontario and Quebec.
It was a very important wild pollinator of crops, flowers, and fruit trees.
By the start of the new century however it had been all but extirpated from Canada, and across almost 90% of its US range.  Blame for the sudden decline has been listed as habitat loss, climate change and in recent years, neonicotinoid pesticides sprayed on crops. These widely used pesticides have also been blamed on massive commercial honey bee losses.
This week the US has declared the Rusty-patched bumble bee as the first bee species to be listed as "endangered".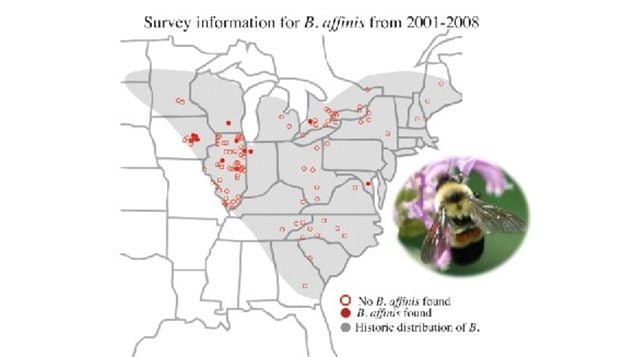 The declaration came in spite of opposition from six commercial interests, including the American Petroleum Institute, and the National Association of Homebuilders, and a delay ordered by the Trump administration.
Canada's Committee on the Status of Endangered Wildlife in Canada (COSEWIC) declared the bee endangered in Canada in 2010.  This came after concerted effort to determine the population found only a handful of specimens. COSEWIC said the bee had been extirpated from 99% of its typical Canadian range over the past 30 years.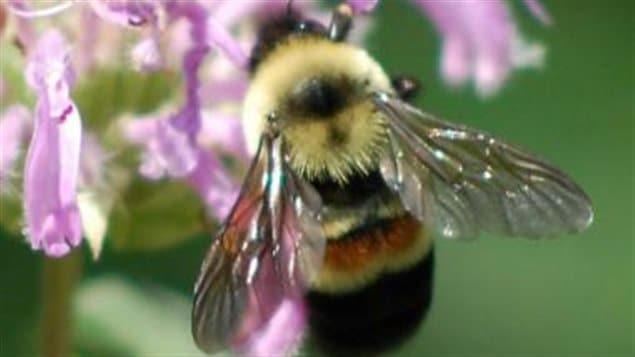 In the US the estimate is the rusty-patched bumble bee has been eliminated from about 90 percent of its traditional range there which extended from the entire US east coast as far west as the Dakotas and as far south as northern Georgia.
The US designation now means the US Fish and Wildlife Service will develop plans to return the bee to a healthy population.
additional information –sources