The issue began last year when the protest group Black Lives Matter-deliberately interrupted and stalled the huge Toronto Pride Parade.
They insisted holding up the parade and not moving until the parade organisers agreed to their demands, one of which is that uniformed police no longer be allowed to march in the parade or have police floats.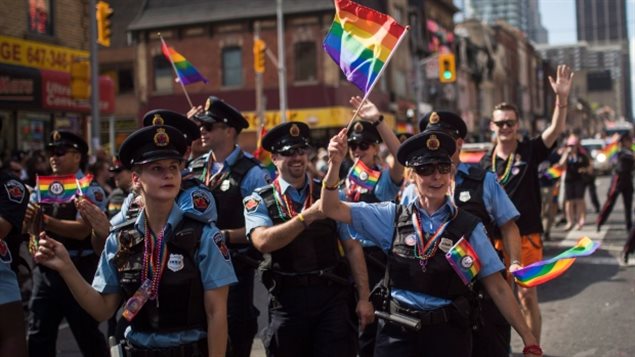 This year with several pride parades having taken place across Canada and with others yet to come this summer,  some other "pride" parades have also begun excluding uniformed police in a move that has divided the LGBT movement, and police forces as well.
Police agencies and straight officers say that participation in uniform shows their attitudes have changed and continue to improve in relation to the gay community, while LGBT members say it gives them pride in showing their "identity" in what had been a traditionally unfriendly police culture. They are expressing dismay at this policy of exclusion. On the other hand some Pride parade organisers say having police in uniform marching in the parades upsets their members who have lingering distrust of police.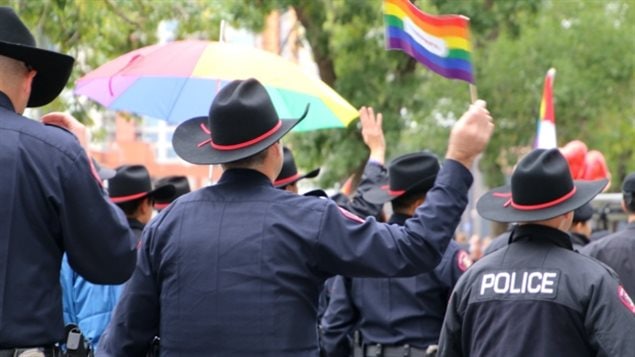 The Calgary Pride group for example says in a press release telling Calgary police not to march in uniform, "We acknowledge the historical oppression and institutionalised racism faced by queer/trans people of colour and Indigenous persons, and the potentially negative association with weapons, uniforms, and other symbols of law enforcement".
Quoted in an article by Graeme Hamilton in Post Media, Vancouver activist Sean Bickerton is among those with a different view, He says, "So a lot of people worked very hard to build relationships, and to build trust with the law enforcement and the justice community. (…) To see that thrown away is for us who come from that generation a tragic error in strategy, and it flies in the face of the way that we gained acceptance in society".
In London, Ontario where a parade is set for this weekend, police are welcome, although some black LGBT members are upset and say they won't participate.  Andrew Rosser, London Pride president is quoted in the CBC with a different opinion.  He says,' "We are very open to collaboration (…) we won't get anywhere if we are constantly battling an organisation that has a lot of power".
Meanwhile  in Toronto where uniformed officers have been excluded,  officers were invited to march in uniform in the New York City pride parade in June and about 100 attended.. That has upset some members of the Toronto Pride group.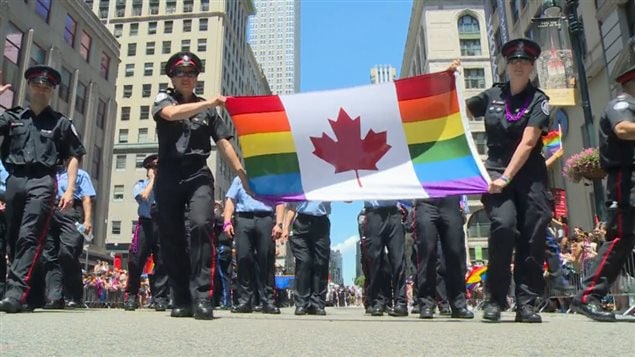 Uniformed police will in all cases continue to provide security for the pride parade events.
Additional information- sources