Despite a legal setback, First Nations activists and their supporters on northern Vancouver Island are vowing to continue their campaign to stop fish-farming on what they say is their traditional territory.
On Wednesday, members of Musgamagw Dzawada'enuxw Nation suffered a legal blow when a British Columbia Supreme Court judge granted an injunction to Marine Harvest Canada to clear protesters from its Midsummer Island farm, located amid a series of islands in the Broughton Archipelago.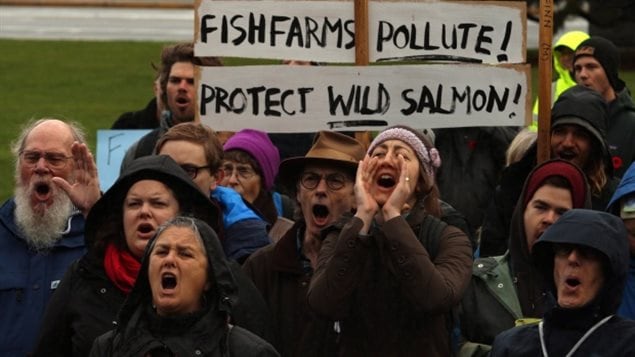 In a ruling released online, Justice Peter Voith said the protesters' presence at the fish farm "gives rise to real safety issues" and he agreed that Marine Harvest will suffer "irreparable harm" if the occupation of the farm continues.
First Nations activists, who say they have an Aboriginal right to govern the land and waters where the farm is located, began occupying the farm in September but scaled back their protests during the legal proceedings.
Karissa Glendale, a member of the 'Namgis First Nation, says the ruling did not surprise her.
"The government and all its laws, they've never recognized our government that we've had that has worked for us. They don't recognize our ways," she said.
"For me personally, I won't be wasting my time and money on the court system."
Glendale added that she will continue to monitor activities at farms operated by Marine Harvest and Cermaq, an aquaculture company that has also been granted a court injunction to have protesters removed.
Marine Harvest issued a statement Wednesday, expressing satisfaction that the court recognized it has a "legal right to operate without harm, and that its staff may work free of harassment, threats and intimidation."
With files from CP, CBC