Farmers are always looking for ways to become more efficient, and produce better products, from milk, to corn to eggs and so on.
To do that they need to know what new equipment and technology is available to them.
They find out at Canada's Outdoor Farm Show, on taday September 13- to the 15th in Woodstock Ontario
Doug Wagner is CEO of Canada's Outdoor Shows
This is the biggest outdoor traListende in all of Canada.  And it's big, in a lot of ways.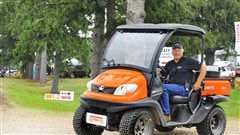 The permanent site is some 90 acres or almost half a square kilometre.
Last year there were over 40,000 visitors to the 21st annual edition.
These were primarily farmers from all across Ontario, but also included those from neighbouring US states  such as Michigan and New York, as well as some from elsewhere in Canada, neighbouring provinces like Manitoba, Quebec, and New Brunswick further east.
They all have made the long trek to Woodstock to get a first hand look at new equipment, techniques and technology.
Cow gets a facial at the dairy barn COFS (video)
And there will be lots to see and learn about with over 750 exhibitors and 26 acres for various field demonstrations.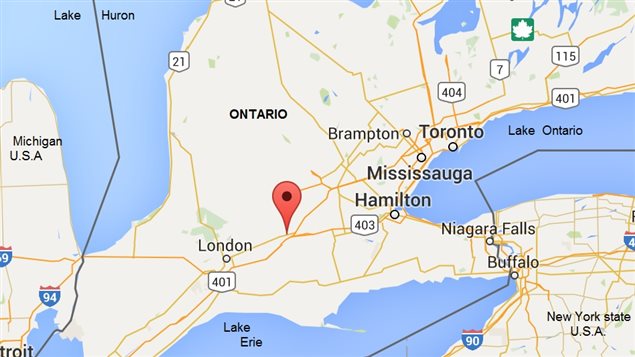 Spokesperson Carol Carson noted that the event now even has international reach. "We have some Mexican groups here today, that are buyers looking, we have a group from Belgium coming, and we have the Consul General of India coming," she said.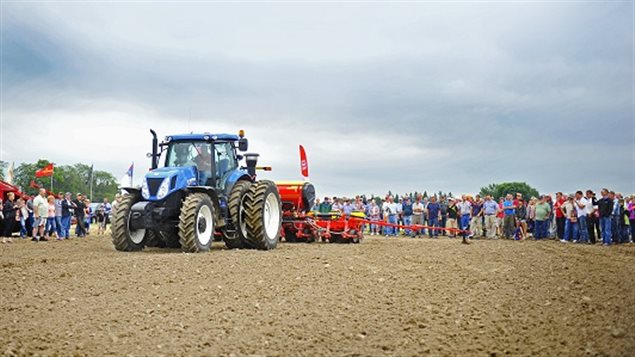 The show also includes 10 acres of actual crops planted on site earlier this summer so farmers can see the product of new seed development.
With good weather predicted, the attendance at COFS 2015 is expected to be even higher than last year's excellent turnout.
Farming in Canada :2011 census

205,730 farms in Canada,
293,925 farm operators.
average age of farm operators is now 54.0 years.

Major crops Canada-2011

Wheat- 25,261,400 metric tonnes
Canola- 14,164,500 m/t
Maize- 10,688,700 m/t
Barley-7,755,700 m/t
Soybeans-4,246,300 m/t

Farming in Ontario: 2011 census

51,950 farms
74,840 farm operators

Major crops Ontario 2011

soybeans- 997,487 hectares
hay- 840,900 hectares
Grain corn- 822,465 hectares
Winter wheat- 445,155 hectares