Russian jets bombed targets in Syria for the second day and activists say they hit rebels backed by the United States and allies like Canada. Russian President Vladimir Putin said he would target Islamic State extremist but his planes appear to be attacking rebel groups working against the Assad regime.  They also appear to have injured civilians, although Putin denies it.
'Americans are now…scratching their heads'
"The Americans are now sort of scratching their heads because the Russians have kind of misled them," says Prof. Bessma Momani who teaches political science at Canada's University of Waterloo. "They are reacting in an attempt to try and deflect the fact that the Russians duped them, and claiming that they're trying to coordinate with the Russians to ensure that at least their aircrafts don't come into battle with each other."
Listen
Momani says U.S. President Obama is nearing the end of his term and wants to finish it without having put American boots on the ground.  The coalition's bombing campaign has proven largely ineffective, she adds.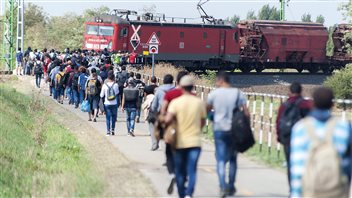 'The risks are absolutely unbelievably high'
"Russia has interpreted that quite correctly…Putin has always interpreted American lack of action as a green light," says Momani, noting that his intervention in Ukraine proved enormously popular at home and this involvement in Syria will be spun as a fight against terrorism.
"The risks are absolutely unbelievably high," she says. More bombs falling will mean more Syrians fleeing, and images of dead civilians will mean more foreign nationals coming to the region to fight alongside Islamic extremists, says Momani.
'A very dangerous turn of events'
"It means also perhaps the Putin regime has got itself into an enormous quagmire similar to what Afghanistan presented for them in the 1970s and 80s. So, all in all, I think this is a very dangerous turn of events."