They were delayed and it was after midnight, but Prime Minister Justin Trudeau was at Toronto's Pearson Airport to personally welcome the first large group  of Syrian refugees (163) that arrived on December 11, 2015. "You are home," he said. Trudeau was elected on October 19, 2015 and part of his Liberal Party platform was to bring 25,000 Syrian refugees to Canada by the end of the year.
Canadian officials will not be able to meet that deadline because the process is long, but they still hope to resettle 10,000 by that date and another 15,000 by the end of February 2016. The premier of Ontario was with Trudeau to welcome this first large group to arrive.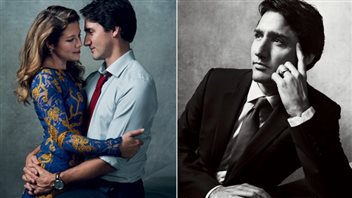 Prime minister meets and greets
Trudeau is making a point of sticking to his campaign promises and also of being seen by the public. Canadians were invited to line the street as he, his wife and cabinet ministers walked to their investiture. Trudeau also greeted citizens in subway stations the next morning and is notorious for taking selfies with people he meets in various situations.
Featured in Vogue magazine
There is mild controversy that he and his wife posed for photographs in Vogue magazine recently. But there is commentary too that he is young and more in tune with the new generation and its active, personal presence in social and other media.
Trudeau's style and substance contrast dramatically with those of previous Conservative Prime Minister Stephen Harper. Canadians watch with interest.