He is perhaps Canada's best known crusader for the environment.
David Suzuki (PhD) a renowned geneticist, many years ago morphed into a committed environmentalist. He is extremely well-known in Canada for his many years hosting the national television science show, "The Nature of Things", but has also widely written on environmental issues, authored books, and occasionally participated in environmental protests.
As such, he has also become the target of opponents of the concept of human created climate change (AGW-anthropongenic global warming).  They often use information about his personal life taken completely out of context to attack his credibility and his environmental message, such as his ownership of his large house in Vancouver where even a tiny dilapidated house is now worth millions.   Yes his large house is worth millions, now, but it's the same one he's had for 35 years and shares with in-laws.
As a respected and authoritative voice on environmental issues he is often called upon to speak at various gatherings, and yet is also criticized for use of jets to get around the country and world, to deliver that message.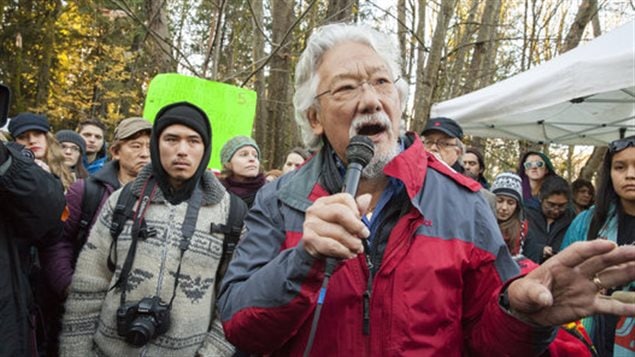 Now as he approaches his 80th birthday next week, he says he no longer worries about people's reactions to his often blunt talk about the environment and what mankind is doing to our own "home", and in fact now feels he can speak more forcefully.
Environmental movement is failing
However, he has been saying for the past couple of years, in spite of all the scientific evidence and all his and many others efforts, the environmental movement is failing.
He says the movement is still fighting, or fighting all over again, many of the same battles it fought and thought it had won 30 years ago.
He says environmentalists and conservationists have not succeeded in fundamentally changing the attitudes of society, in spite of the clear evidence of the need.
Now however, still an ardent crusader for the environment, he says he has begun to think about the end of his life. After writing several books on the environment, recognizing his age and that his time on earth was becoming shorter, he wrote a book called "Letters to My Grandchildren in 2015 to pass on aspects of his life, his experience, and to pass the torch so-to-speak.
Still, even at 80, he believes the need is too great to stop trying to get the message out, and he will keep trying until he no longer can.
CBC TV INTERVIEW (page link further below)

Additional information-sources
http://www.thestar.com/entertainment/books/2015/06/06/david-suzukis-letters-to-my-grandchildren-review.html