Foreign Affairs Minister Chrystia Freeland and Defence Minister Harjit Sajjan met yesterday with their U.S. counterparts to discuss a wide range of security and trade issues over dinner at the State Department in Washington, D.C.
The discussions with Secretary of State Rex Tillerson and Secretary of Defense James Mattis, Freeland and Sajjan focused on "the deep and essential security partnership between Canada and the United States," according to a statement provided by Global Affairs Canada.
"The conversation also addressed the North American Aerospace Defense Command (NORAD), NATO, Ukraine, Venezuela, Iraq, Syria, and cooperation to defeat Daesh," said the statement referring to so-called Islamic State by its Arabic acronym.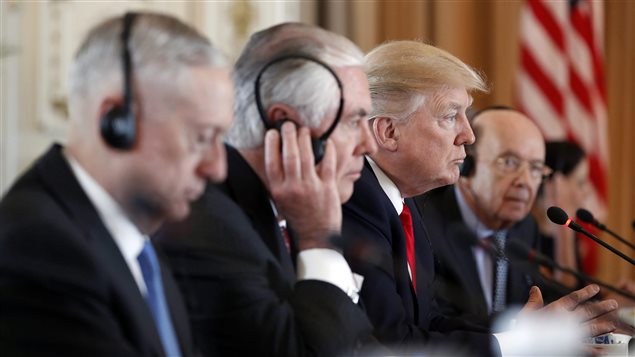 The ministers also discussed ways of moving forward on the trade dispute over softwood lumber, as well as a looming dispute over imports of Canadian steel into the U.S.
This comes after President Donald Trump signed a Presidential Memorandum on April 20 prioritizing an investigation initiated by the Secretary of Commerce into whether steel imports threaten to impair the U.S. national security.
"Maintaining the production of American steel is extremely important to our national security and our defense industrial base," said Trump, firing another shot across Ottawa's bow in a potential trade war with Canada.  "Steel is critical to both our economy and our military.  This is not an area where we can afford to become dependent on foreign countries."
A week later Trump directed the Secretary of Commerce to launch an investigation into aluminium imports under the same national security pretext. An estimated 60 per cent of U.S. aluminum imports originate from Canada, primarily from Quebec, according to United Steelworkers.
"Canadian aluminium, like Canadian steel, is not a threat to American national security," said USW Canadian Director Ken Neumann in a statement. "Quite on the contrary, the Canadian industry is a stable and reliable source of aluminium, in close proximity to the American market. It's a valuable asset coming from a close ally to the United States."