with files from Emily Chung, CBC
With the sometimes bitter debate continues over widespread farm use of the insecticide family of neonicotinoids, another alternative is making inroads.
There has been a battle between environmentalists, scientists and beekeepers on one hand, and grain farmers on the other about the use of neonicotinoids and other insecticides. Farmers say they need them to produce good yields of damage-free crops, while beekeepers and others say they are killing bees, and cause harm to insect eating birds and bats, while runoff harms aquatic life.
The problem that has always existed with insecticides is that while they eliminate the target pest, they also don't discriminate and end up killing all kinds of other insects as well.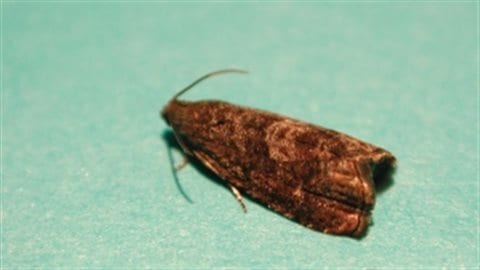 An alternative, which has been employed successfully elsewhere is to use insect pheromones –the natural scent emitted by insects to attract mates.
Sometimes the scents will attract the insects into traps. Because the pheromones are species specific, they only affect the target pest.
This was the case cited in an article in the Scientific American in 1971.  The late research chemist Morton Beroza, of the US Department of Agriculture recounted how in the late 1950's, pheromones were used to attract and wipe out infestations of destructive Mediterranean fruit flies in Florida, as well as the oriental fruit fly and the melon fly.
The latest version of pheromone control to be approved in Canada is an innovative aerosol spray which in this case is designed for moths in fruit orchards.  Unlike the case mentioned above, it doesn't attract the moths into traps, but merely confuses them. The scent in the air scatters the males who look in vain for a mate. With little to no mating, the next generation is greatly reduced in number.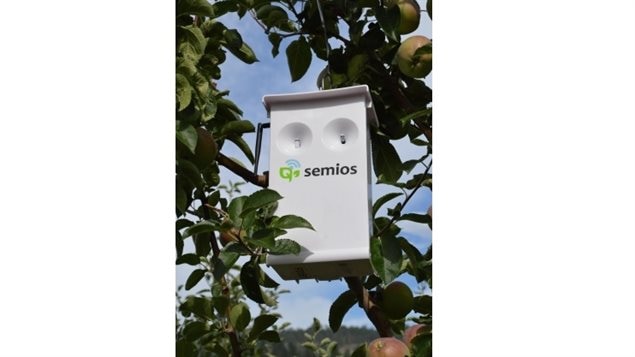 Pheremone expert, Kirk Hillier, a biologist at Acadia University in Nova Scotia, says pheromones have been shown to be  effective at controlling a variety of agricultural pests, including the grapevine borer in Italy, the red palm weevil, and boll weevils that attack cotton. They're also used in household traps for pests such as German cockroaches, and to monitor forestry pests such as the spruce budworm, gypsy moths and mountain pine beetles.
The advantages of pheromone traps are that they have zero effect on humans and farmers can eliminate expensive and labour intensive insecticide spraying a couple of times per season.
Hillier is part of the Hillier is part of Green Insect Management Innovation and Knowledge project in Atlantic Canada which promotes this more environmentally friendly alternative to toxic pesticides.
Hillier notes that pheromone control is still in its infancy, compared to insecticides produced by multinantional corporations who are eager to protect their lucrative sales. According to the business intelligence firm Mordor Intelligence, globally insecticides are a $58.8 billion dollar annual market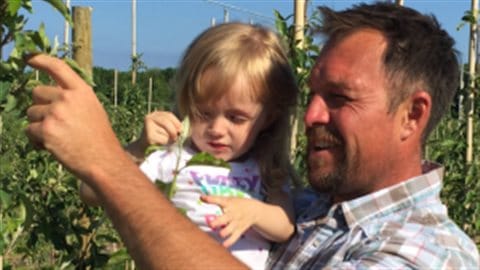 Southern Ontario apple farmer David Knight says he can eliminated three or four pests with the pheromone system in addition to the other advantages. He also says "It's a great PR thing for a business to say, 'This is what we're doing — we're actively reducing any chemicals we use."
As he depends on bees and other pollinators for his orchard he is well aware of the effects of pesticides on them.
He feels that pheromone control will become much more mainstream in the next few years.