Canada's doctors have decided not to call for mandatory vaccinations of schoolchildren.
The Canadian Medical Association  held their annual general meeting this week in Halifax Nova Scotia. However a resolution was passed that amounts to almost the same thing. The doctors resolution calls on governments to allow elementary and secondary schools to require parents to provide proof of vaccinations to school officials.
"I want to stress that the proposal does not call for mandatory vaccination, but rather an approach that allows appropriate public health measures to protect vulnerable children in the event of an infectious disease outbreak," CMA president Cindy Forbes told a news conference.
She says the doctors stopped short of a call for outright mandatory vaccination as she realizes that would create backlash from people who don't want to be ordered to do things. She says the CMA is calling for some proof that children entering school are adequately immunized against a wide variety of infections. If records show that a student has not been immunized, there would then be "a conversation" between public health officials and parents.
It is known that to achieve "herd immunity" some 95 percent of the population must be vaccinated. Herd immunity is where an infection may occur in one or more individuals, but cannot spread further in the population as too many people are vaccinated and immunized against it.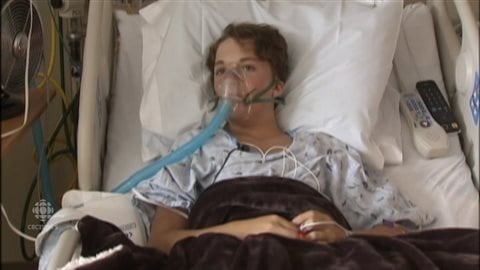 Forbes says it's important for health officials to explain and discuss the importance of vaccinations with parents whose children are inadequately immunized.
Only two provinces in Canada mandate children to be vaccinated in order to attend school; Ontario and New Brunswick. In other provinces, vaccination of children prior to school entry is voluntary.
The Ontario Immunization of School Pupils Act requires vaccination against a range of diseases, including: diphtheria, tetanus, pertussis (also known as whooping cough), polio, measles, mumps, rubella, meningococcal disease and varicella (chickenpox).   Proof of immunization against meningococcal disease, whooping cough and chickenpox were added as requirements for the 2014-2015 academic year.
In the western province of Alberta, an outbreak of whooping cough is being reported this year with 182 cases reported so far in the northern region of Fort MacMurray and Grande Prairie which typically sees only 50 or fewer cases in an entire year. Nearly 30 percent of the population in the region is not vaccinated
As guidelines and regulations differ from province to province, the CMA is calling for federal leadership and provincial cooperation to create more coherence regarding vaccination schedules and a national registry of immunizations.