A non-profit group is tagging beluga whales in the St. Lawrence River to try to find out where they spend the winter and further the goal of preventing their decline. Two of the small white whales have been tagged so far and the group hopes to tag four more before winter weather forces them to take their eight-meter-long boat out of the water.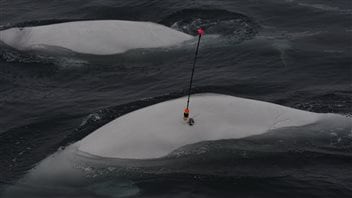 Tags transmit to satellites
The tall tags are shot at the whale's backs and they attach with two tiny harpoons. They transmit to satellites and will enable researchers to plan flights to try to survey their movements. The tags are eventually shed by the belugas leaving a small wound. Researchers say it is a trade-off—creating an irritation in order to gather information to try to protect the whale and its habitat.
Only 900 left
An estimated 10,000 belugas swam in the St. Lawrence before 1885. Commercial whaling reduced the population to around 1,000 by the late 1970s. Toxic pollution caused cancer in many of the animals and while the river is cleaner now, their numbers are not increasing. Now there are only about 900.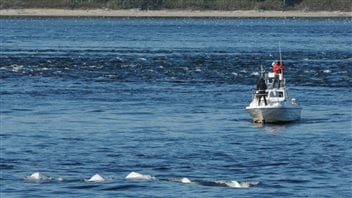 Belugas not improving
"The St. Lawrence is a better place to live in than it used to be and we thought the beluga would do much better and would recover since those improvements," says Robert Michaud, scientific director for the group called Research and Education on Marine Mammals (GREMM). "Sadly, they don't."
Listen
While contaminants in the belugas' bodies have declined, the whales are not doing much better, he says. "Following this exposure to contaminants, now they are fighting against climate change."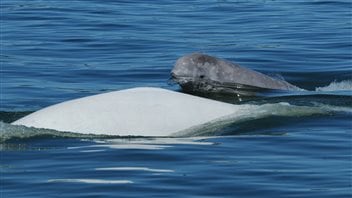 'Climate change…might be a road to decline and extinction'
The belugas are an arctic animal and those living in this river are at the southernmost part of their range. As water temperatures increase, conditions decline and the animals are not likely to leave the habitat they are used to and simply move north, says Michaud.
"What we're afraid of is that if the conditions get worse and worse, they might try to adapt to these conditions but do poorly. And this might be a road to decline and extinction." Michaud hopes that studying the belugas' winter habitat and behaviours will help find ways to stop their decline.