Canadians concerned about illegal border crossings, security
Shortly after Donald Trump was officially named as President of the United States, some of those living illegally in the US and /or awaiting word on their refugee claims began to worry about their situation in that country.
Over 1,000 illegal entries in January/February
A slow trickle of people began crossing unguarded areas of the Canada-US border, and once in Canada, claimed asylum.
A new public opinion poll this month by the Angus Reid Institute seems to confirm a similar but slightly different poll taken last month by Ipsos/Reuters: Canadians are becoming concerned about the situation.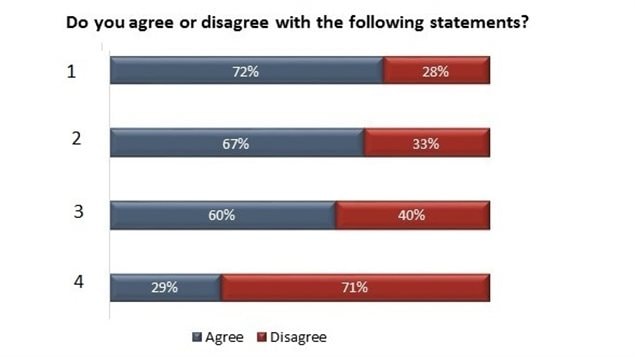 Questions Graph 1
1= It's not fair that people can cross into Canada illegally and apply for refugee status here.
2= Many of these people have real reason to be concerned they won't be treated fairly under Donal Trump's policies
3= Canada should be an example for the world when it comes to generosity toward refugees.
4= Canada should follow Donald Trump's lead and also ban refugees from certain Muslim-majority countries
Safe Third Country
Canada has a "safe third country" agreement with the U.S.  This requires refugees make their asylum claim in the first safe country they reach. This means that refugee claimants arriving in Canada from the U.S at a recognized border crossing will be turned back, and vice versa.
However if they manage to arrive in Canada elsewhere, the country is obliged to accept their claim and analyse it.
In the first two months of this year alone, well over 1,000 people have crossed illegally into Canada, almost half of the total for all of 2016. Many of the asylum claimants are of African, or middle-Eastern origin.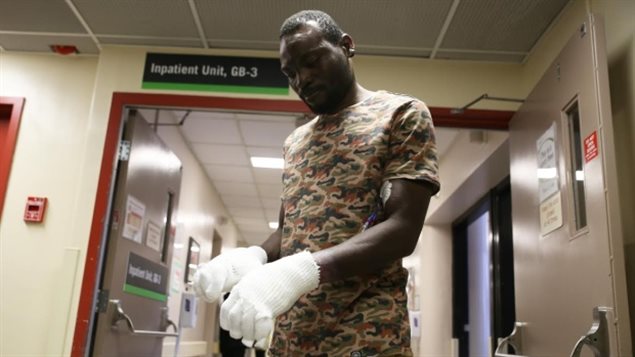 The latest poll shows that half of the Canadians asked feel there's a significant or great potential for security threats from the migrants.
The other half feel the risk is minor to none at all.
While Canada has been generally seen as a welcoming country, in a related question, 37 percent said the country shoule be more concerned about the security risk than concern for trying to help them (24%).  Confirming other statistics,  38 percent felt this issue of illegal border crossing was dividing the country.
Although the migrants crossings have increased during what are seen as cold and potentially dangerous months, the federal government has been playing down the risk of a significant increase in illegal migration as the weather warms.
The poll found that 53 percent of Canadians think the warmer weather will bring an substantial increase, or even a flood of illegal entries claiming asylum. Some 25 percent said the numbers would increase slightly with warmer weather while 17 % thought it wouldn't change much. Only five percent thought asylum claimants would decrease.
As to whether they think the asylum seekers are genuine refugees fleeing crisis or persecution a slightly larger percentage still agrees with that perception.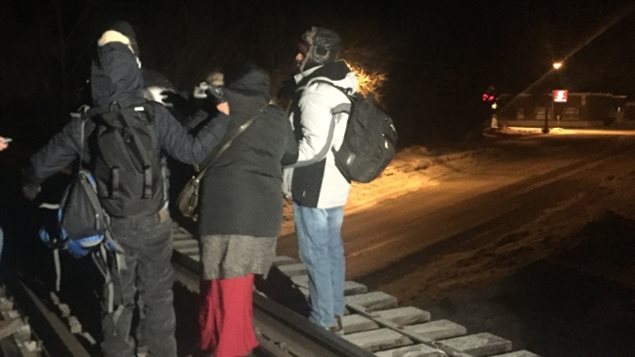 Some 40 percent of respondents think slightly more than half are genuine refugees, while 36 percent think slightly less than half are genuine refugees as opposed to economic migrants. Some 23 percent of Canadians think about half the border crossers are legitimate refugees, while half are seeking better economic opportunities.
And while there is still a majority who see Canada as a welcoming country for immigrants and refugees,  a clear majority say it's not fair that the illegal border crossers can "jump the queue " so-to-speak and claim refugee status.
Although the federal Liberal government has downplayed the situation, those currently vying for leadership of the opposition Conservative Party, are saying it is indeed a serious situation and they would employ a variety of new measures to counteract illegal crossings including even calling out the army to patrol the border.
Additional information- Sources