Not enough rain last year, too much this year
Scientists have been saying for years that an effect of climate change is that extremes in weather will get more extreme.
Ontario farmers would agree.  Last year, the major concern was extended heat waves and drought which caused substantial crop damage. This year it's the opposite.  There's been too much rain, and not enough sun throughout southern Ontario and Quebec.
Planting in many cases had been delayed well past normal periods, in others early seedlings have been washed away, or young plants drowned.
Although we're into summer, from Ontario's massive corn production, to the vineyards and fruit orchards of Niagara, cool weather, limited sunny days, and continuous periods of rain have threatened crops throughout the province.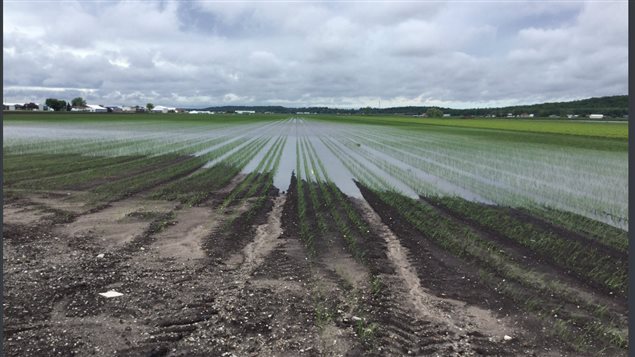 Adding to the misery was a hailstorm this week affecting some areas in Niagara damaging fruit crops.
Ontario's most productive vegetable growing area is the Holland Marsh area roughly 60 kilometres north of Toronto.
Many farmers in the 8,500 hectare region have pumped their fields dry, only to have days of rain soak and flood them again. One farmer said his onion crop was ruined and it was now too late to re-seed.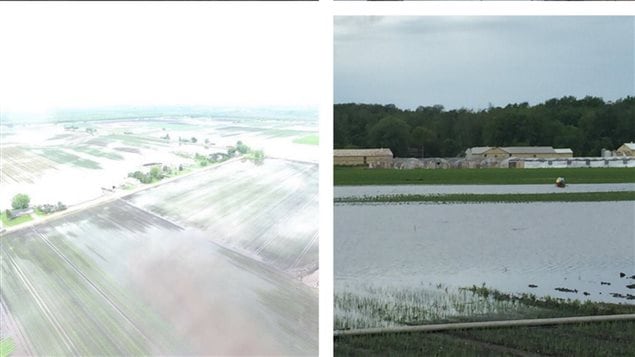 Many are saying they've never seen such a wet spring and early summer in their decades of farming.
Still, most farmers say there is still time for the season to turn around. Although there will be some losses, they're not predicting massive losses as yet, they are saying unless the weather changes for the better in the very near future, the season could be disastrous for a large number and variety of crops.
More periods of scattered rain are predicted across southern Ontario over the next few days.
Additional information-sources